Welder Building Bright Future at LSCO
November 7, 2018
---

Student Spotlight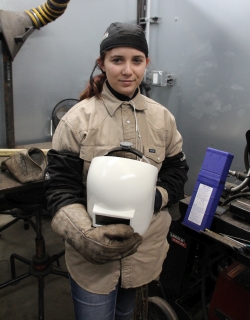 At just 20 years old and not much more than five feet tall, Anissa Read doesn't fit the typical description of a welder.
The small-framed young woman doesn't even mind being one of only two women in the LSCO welding program - she actually thinks that makes the program easier.
"It doesn't bother me at all," she said of being in the predominantly male program. Anissa, a 2017 graduate of Jasper High School, knew she wanted to be a welder, but wasn't sure where to get training. She asked some of her friends who had gone to college for advice, and they told her about the program at LSCO.
Now in her first semester, Anissa has already figured out she made the right choice. "The main thing I like about it is the environment and the people there. You can learn something new almost every day," she said. "I'm learning the different types of welding you can do, the different metals and alloys and all that. It's really unique to learn."
Anissa even let one welding program secret out of the bag: "Mr. McLendon is very funny sometimes."
With another semester before she finishes the welding program, Anissa already has plans to re-enroll at LSCO in the Process Operator program. She wants to start small with her welding certificate by working in a local shop remodeling vehicles and trailers. Then she'll work her way up to more advanced welding positions at larger facilities, she said.
"It doesn't matter what you want to do as long as you go for it," she said. "I like to push forward and keep going."
Learn more about the LSCO Welding Program.