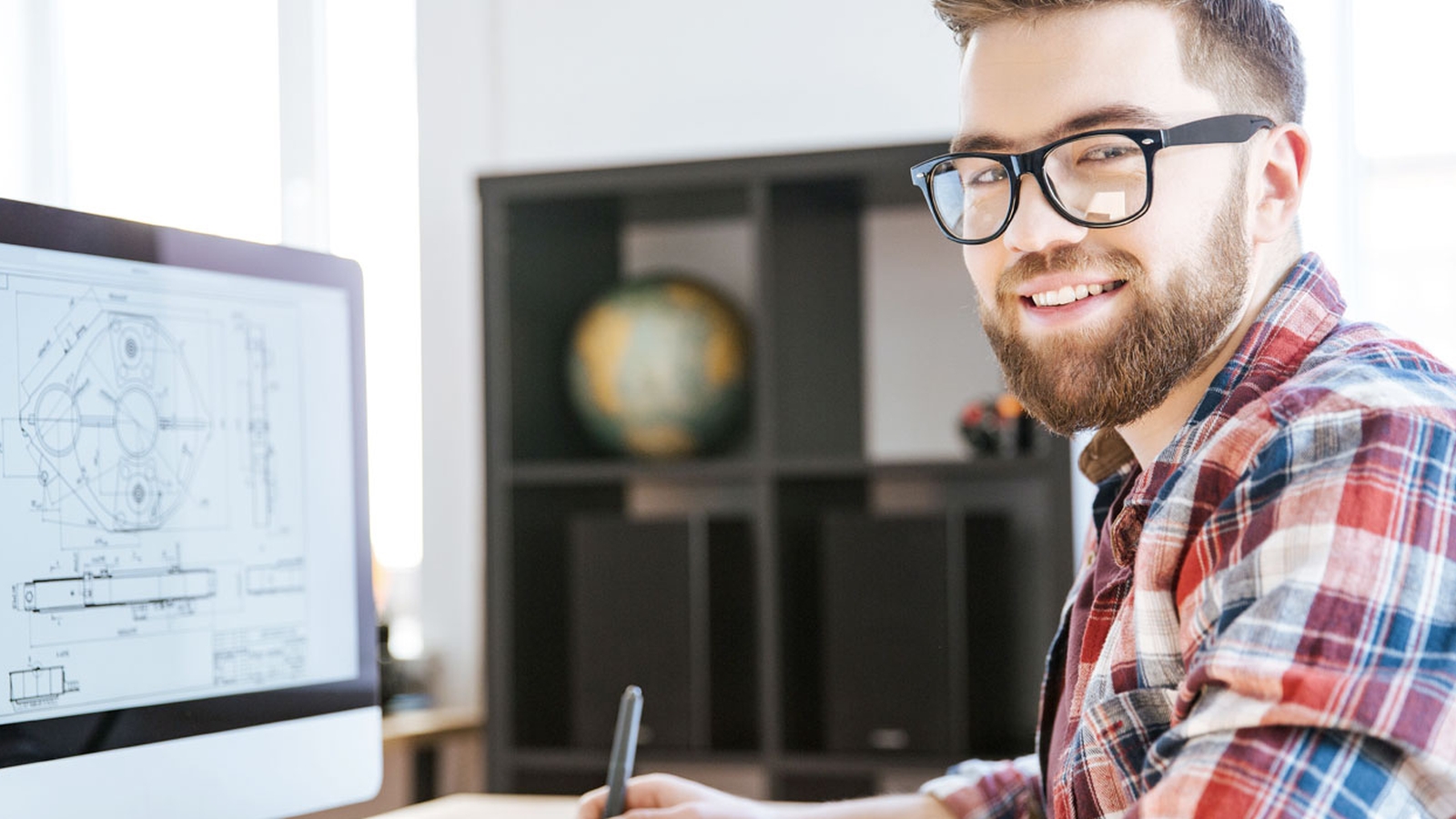 AutoCAD Certified User
Become an AutoCAD 2021 Certified User
AutoCAD is the leading computer-aided design (CAD) software tool for drafting and design by mechanical and electronic engineering designers. This 100% online course provides a comprehensive overview of AutoCAD 2021 and hands-on practice with the program's newest features. Upon successful completion, you will be ready to pass the Autodesk AutoCAD 2021 Certified User exam!
Job Outlook for AutoCAD Certified Users
According to the US Bureau of Labor Statistics (BLS), drafters earn $56,830 per year, on average. Industrial design and drafting are high-potential careers in the design-driven 21st century. Many CAD professionals begin as drafters and move up to design positions as they gain experience.
Study.com reports that an AutoCAD certificate is a useful credential for jobs that require digital designs, blueprints or animation special effects. This may include positions in electrical or electronics, architectural, mechanical and civil design fields.
According to ZipRecruiter.com, demand for specialized design professionals is expected to remain strong, growing at a rate of 7% over the coming decade.
AutoCAD Certified User FAQs
AutoCAD is used across a wide variety of jobs and industries. Any job that involves creating a visual design may use AutoCAD. Some design-related job areas include:
Architectural drafting
Mechanical drafting
Electronics drafting
Civil construction drafting
CAD software supports design in many industries, including:
Architecture
Engineering
Interior and exterior design
Industrial Design
To successfully use AutoCAD, designers must know how to use the software's drawing tools, setting up and managing objects and creating visual designs. Top AutoCAD skills include:
Cad standards
Drawing precision in AutoCAD
Advanced object types
Working with blocks
Creating templates
Annotation styles
Text objects
Output and publishing
Cloud collaboration and 2D automation
Macros and custom routines
Professional design projects involve complex operations and often follow rigorous standards. While some designers are self-taught, certification signals to an employer or design team that a designer has undertaken a formal course of study that integrates concepts and practices in an organized structure. ZipRecruiter.com states that certification "is quickly becoming a requirement" for CAD-related jobs, due to the complex and fast-changing dynamics of the design field.
Course Objectives
Prepare to take and pass the Autodesk AutoCAD 2021 certification exam
Use the AutoCAD software to create, edit, modify and work with drawings
Work and set up units and layers, create annotations (text, hatching, dimensions, multileader, and tables), including annotation styles and setting up templates
Create and insert reusable symbols using local/dynamic blocks with attributes and work with and modify external references in a drawing file
Set up layouts (printing, manipulating, copying, creating viewports) and create, publish, and customize sheet sets
Learn collaboration and automation tools and understand CAD management, system setup, and customizing the AutoCAD interface
Prerequisites
There are no prerequisites to take this course. However, you should have a basic understanding of design/drafting procedures and terminology.
Curriculum
Getting Started with AutoCAD
Basic Drawing and Editing Commands
Projects: Creating a Simple Drawing
Drawing Precision in AutoCAD
Making Changes in Your Drawing
Projects: Making Your Drawings More Precise
Organizing Your Drawing with Layers
Advanced Object Types
Analyzing Model and Object Properties
Project: Drawing Organization and Information
Advanced Editing Commands
Inserting Blocks
Projects: Creating More Complex Objects
Setting Up a Layout
Printing Your Drawing
Projects: Preparing to Print
Text
Hatching
Adding Dimensions
Projects: Annotating Your Drawing
Working Effectively with AutoCAD
Accurate Positioning
Projects: Productivity Tools
Parametric Drawing
Working with Blocks
Projects: Creating and Organizing Blocks
Creating Templates
Advanced Layouts
Annotation Styles
Projects: Drawing Setup and Utilities
External References
Projects: Drawing
Miscellaneous Optional Topics
Advanced Text Objects
Working with Tables
Projects: Advanced Annotation
Dynamic Blocks
Attributes
Projects: Advanced Blocks and Attributes
Output and Publishing
Other Tools for Collaboration
Clouc Collaboration and 2D Automation
Intruduction to Sheet Sets
Publishing and Customizing Sheet Sets
Project: Sheet Sets
Managing Layers
CAD Standards
System Setup
Introduction to Customization
Customizing the User Interface
Macros and Custom Routines
Instructor
Jennifer MacMillan
Jennifer MacMillan has been teaching CAD for 22 years and is an Autodesk Certified Instructor (ACI). She currently manages a team of curriculum developers that design and develop curriculum for the Autodesk line of engineering software products. As a subject matter expert herself, MacMillan focuses her development efforts working specifically with the manufacturing software products. She holds a mechanical engineering degree from Dalhousie University in Nova Scotia, Canada.
Renu Muthoo
Renu Muthoo is a computer engineering graduate from Bangalore University, India. She has worked with Autodesk products for the past 18 years, focusing mainly on AutoCAD and Autodesk's design visualization software products such as 3ds Max, VRED, and Showcase. Using her engineering background and expertise in Autodesk products, she has co-authored a number of books. She currently works as a curriculum developer and subject matter expert for Autodesk products.
Registration and Enrollment
This course is 100% online. Start anytime.