TOT Scholarship Winner Announced
May 1, 2015
---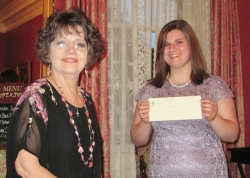 The Teachers of Tomorrow (TOT) organization at Lamar State College – Orange have selected a scholarship winner for the spring semester. The group includes Associate of Arts in Teaching (AAT) education majors who are currently or have taken taking Introduction to Teaching or Introduction to Special Populations classes. The sponsor of the group is long time educator Dorraine Babcock.
The scholarship winner, Erin Welborn, is the TOT vice president of the TOT organization. She is an AAT1 student and graduated from Vidor High School in 2014, was a member of the Student Council, served as president of the Family Career and Community Leaders of America and was a member of the Texas Association of Future Educators. Welborn received a bronze medal from the FCCIA association, was a winner of the TAFE storybook contest and was on the A-Honor roll while in high school. She plans to finish her degree at Lamar University and teach fifth grade history. She is the daughter of Fawn and Michael Welborn.
The students raise funds at the annual Art in the Park as well as other fund raising events on campus. Students wishing to become education majors may contact Lamar State College – Orange, Suzonne Crockett, College Success Division Director, for advising. She can be contacted in the Wilson Building at 882-3053.