Home
/
About
/
News
/
Lamar State College Orange Unveils Newly Renovated Satellite Location in Lumberton at Grand Opening & Ribbon-Cutting Ceremony
Lamar State College Orange Unveils Newly Renovated Satellite Location in Lumberton at Grand Opening & Ribbon-Cutting Ceremony
---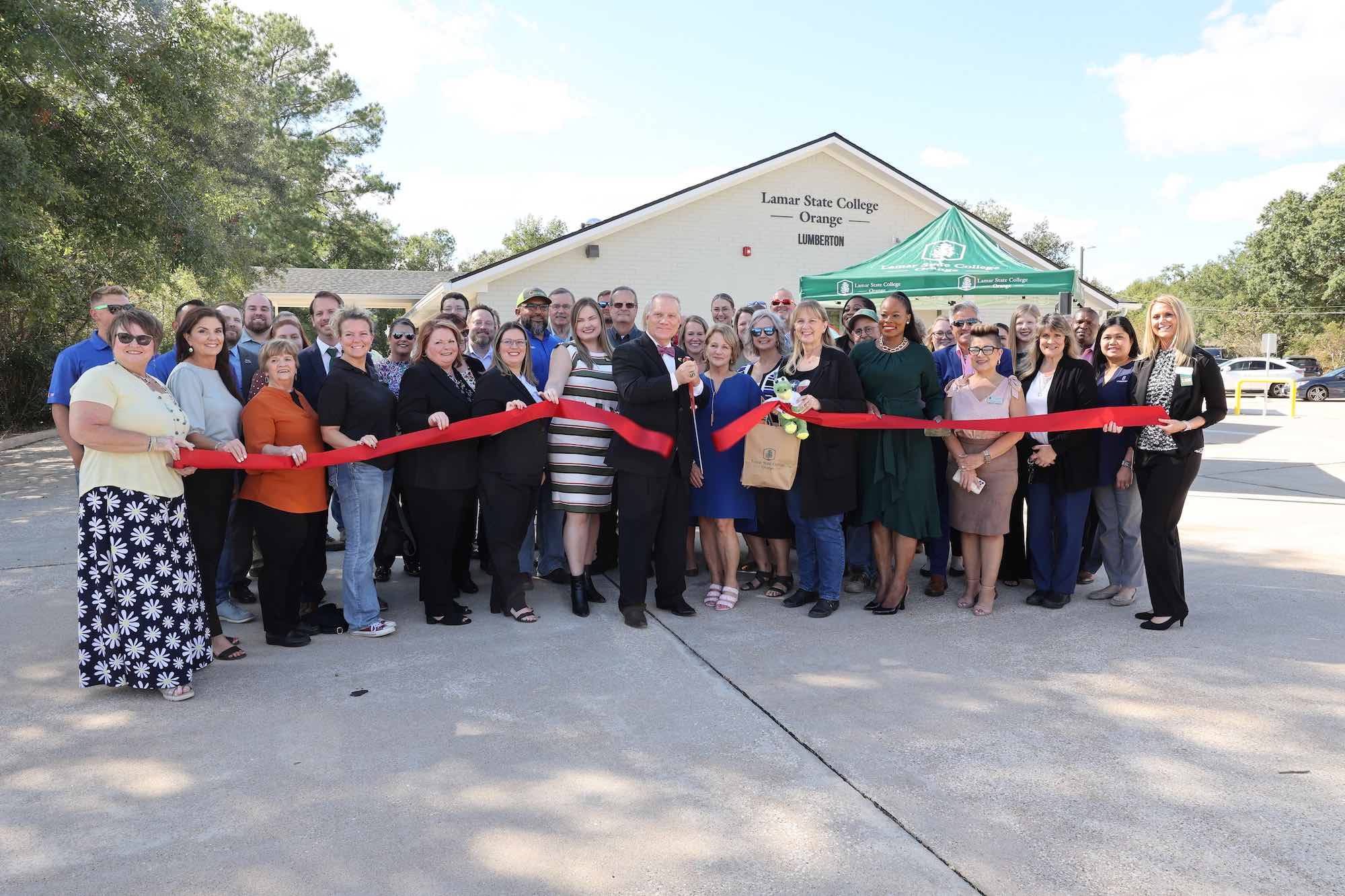 ORANGE, TX – Lamar State College Orange unveiled its first satellite location in Lumberton with a grand opening and ribbon-cutting ceremony on Wednesday, October 18, 2023. The newly renovated, 3,000 square foot site located at 344 S. Main Street houses two multi-purpose classrooms, a reception area, a conference area, and office space for support staff.
LSCO has seen record growth recently with an impressive 11.73% enrollment increase from Fall 2021 to Fall 2022, making the college the second fastest growing institution out of the 53 two-year colleges in Texas. Currently, LSCO is home to more than 550 students from Hardin County accounting for nearly 20% of total enrollment.
"Lumberton and Hardin County have seen some incredible expansion over the past decade," said Dr. Tom Johnson, President of Lamar State College Orange. "We believe that this building represents just the beginning of a growing relationship between LSCO and the Lumberton and Hardin County communities."
LSCO's dual credit partnership with Lumberton ISD is vibrant and expanding with more than 450 students currently enrolled in dual credit courses. Students have the opportunity as early as their 10th grade year to earn college credit in programs like nursing, criminal justice, welding, business and more.
"Our dual credit partnership with Lumberton ISD gives students an amazing opportunity to earn college credit while still in high school in high-demand programs that are critical to the continued growth of Lumberton and Hardin County," said Dr. Wendy Elmore, Provost and Executive Vice President of LSCO.
The building previously served as a medical clinic for Lumberton area residents before it was purchased by LSCO in 2022. Renovations began in January 2023 and classes are slated to begin in Spring 2024.
"Our mission at LSCO is simply transforming lives and communities. This new facility is in the right place at the right time for students and the Lumberton community," said President Johnson.
For information on how to become a student at LSCO's Lumberton site, visit lumberton.lsco.edu or contact lumberton@lsco.edu.
About LSCO:
Lamar State College Orange is driven by our mission to transform lives and communities through academic, professional, and personal excellence. LSCO prides itself on being the place where hope meets opportunity by offering small class sizes, a diverse atmosphere, flexible 8- and 16-week semesters, and affordable tuition. As an exemplary place of learning, LSCO is preparing the workforce of tomorrow. With enrollment of more than 3,000, LSCO offers stackable credentials and awards certificates and associate degrees in high-demand fields. Students truly receive a hands-on education that prepares them for the workforce or to successfully transfer to a four-year institution. The future is bright orange at Lamar State College Orange.