New Dean Comes with Experience and Excitement
June 11, 2020
---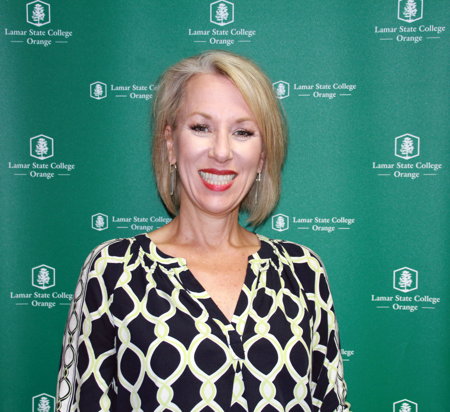 With decades of experience in higher education, Kristin Walker comes to Lamar State College Orange with a wealth of knowledge and a passion for expanding programs.
Kristin started her new role as the new Dean of Health, Workforce and Technical Programs at the beginning of June and has hit the ground running meeting her team, learning the programs, and seeing the potential.
"I want us to grow to meet the economic future of not just Orange County, but the future labor market," she said. "I want to grow our nursing programs and expand opportunities and provide more avenues for industrial training."
Her vision matches that of President Johnson, which is one of the reasons she was so excited to become part of the Gator family.
"My favorite things about LSCO so far are the beautiful campus and the fact that LSCO is a place where hope meets opportunity. I will make sure that every course within the division is credit towards an award and every award is stackable to higher credentials."
Her background highlights how she is more than capable to do just that.
Kristin received a Bachelor of Science in Counseling and Guidance from East Texas State University and a Master of Education in Student Affairs Administration in Higher Education at Texas A&M University. She worked for a time in the business world of wholesale retail before returning to higher education as the Director of Tech Prep at Navarro College in Corsicana.
Kristin served at Navarro for sixteen years in various roles including Director of Continuing Education and Protective Services, Dean of Business and Technical Education at the Waxahachie campus, and Dean of Student Services for the Ellis County campuses. For the past two years, she has served as Associate Vice President of Workforce Education for Trinity Valley Community College in Athens providing leadership to the Adult and Continuing Education program and the TVCC Small Business Development Center ensuring workforce education courses were provided throughout the district. She also worked with the Director of Dual Credit and the Vice President of Instruction to ensure all the local independent school districts' needs were met through dual credit. She also managed the Carl Perkins grant that supports workforce education students, faculty, and program. Additionally, she managed a million-dollar budget and recently completed the Comprehensive Local Needs Assessment required of the Perkins IV federal legislation - a hundred-page document with data to support one-year and three-year goals for the college and workforce education, shifting the culture to one that is inquisitive and future-focused.
Kristin said with her team's energy and her background, LSCO can become a place where when someone says, 'I want to learn how to blank' either personally or as a career, they call this campus.
"I want to become that place," she said.
Kristin also said believes that "honest communication builds stable relationships that shape success."
Kristin has a 15-year old daughter, RubyLaine, and a "pitty" named Jade. She looks forward to finding a yoga studio in the area and finding volunteer opportunities in the community.