Home
/
About
/
News
/
LSCO Graduates 100 Students at Summer '22 Commencement; 75% are First-Generation College Graduates
LSCO Graduates 100 Students at Summer '22 Commencement; 75% are First-Generation College Graduates
August 15, 2022
---
ORANGE, TX – Lamar State College Orange hosted its Summer 2022 Graduation this past Saturday, August 13, 2022. The graduation was held at Michael and Bridget Shahan Events Center and 100 students graduated.
President Tom Johnson served as the commencement speaker. 75% of the graduates were first-generation college graduates.
The graduates are listed below, starting with the honor graduates.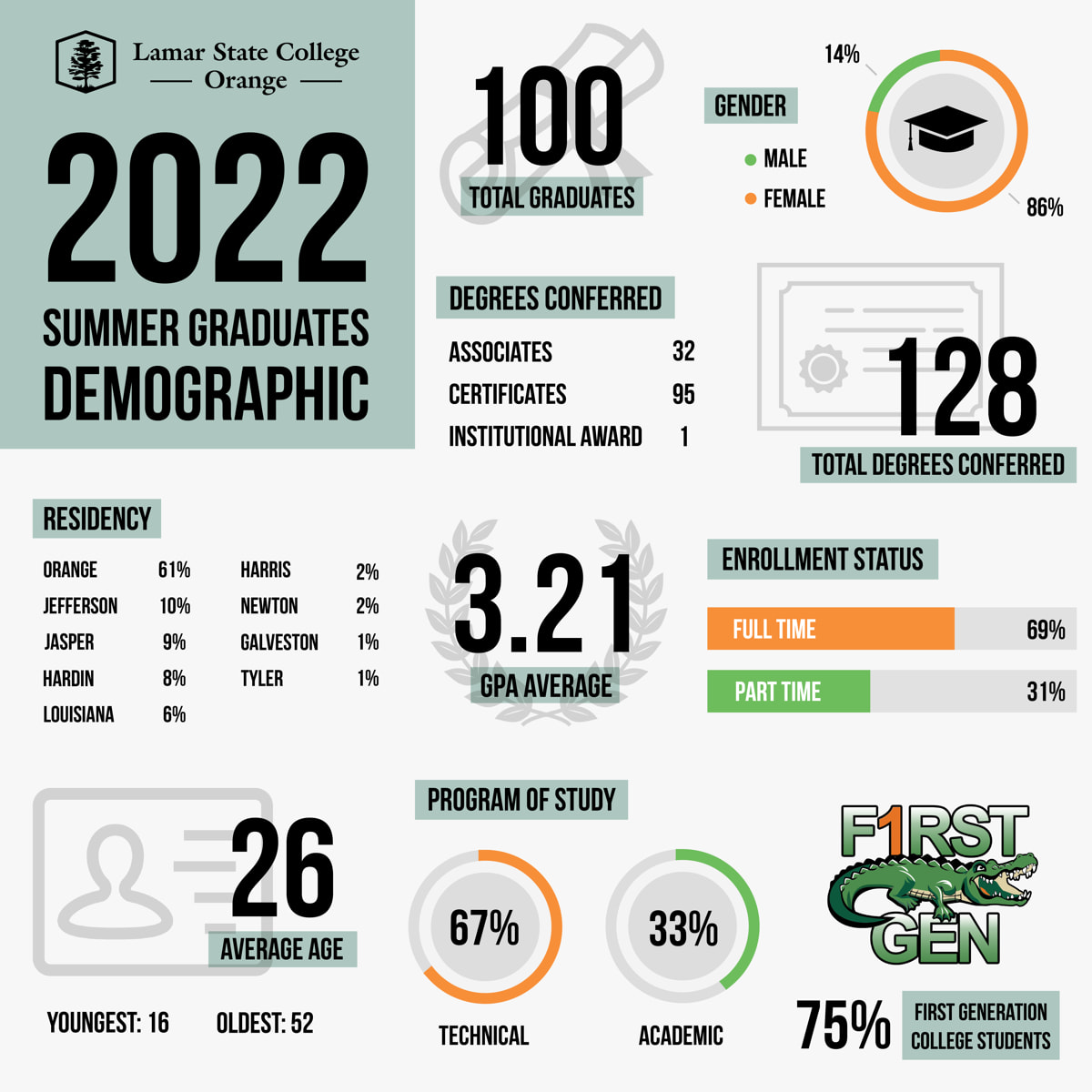 2022 Summer Graduates Demographic
Honor Graduates
Summa Cum Laude (3.80 - 4.00 GPA)
Sarah Isabelle Banker
Bianca Denee Bourque
Christopher E. Brewer
Sandy Van Anh Bui
Jessica Diane Butchee
Kylie Renae Castaneda
Kelsey Brena Garrett
Jayla Lorenn Hare
Shaylyn Taylor Hubert
Lisa Dorrell Langele
Baylei Nicole McGowan
Clarissa Arianna Molina
Braleigh Michelle Molin
Lakindra Lynelle Norbert
Jacquelyn Marie Oberle
Natasha Marie Richmond
Taylor Brynn Schroeder
Sheila Fiveson Schwartz
Maria Del Carmen Servin
Tanya Necole Sims
Trevor Martel Wiese
Magna Cum Laude (3.65 - 3.79 GPA)

Amber Deanae Askew
Jaclyn Rene Bacchiocchi
Grace Makenzie Garcia
Yaquelin Mendoza
Emilee Christina Procella
Brittany Dawn Reece
Elijah Joseph Reynolds
Cassie Nicole Simon
Kiasia Chaunice Wilson
Cum Laude (3.5 - 3.64 GPA)

Amanda Chavez
Taylor Lyn Cofty
Carly Beth Garrett
Dayla Lynette Hulsey
Bethany Anne Martinez
Kayleigh Nicole Ritchey
Ashley Renee Robinson
Yuri Amairani Sanchez
Ebony F. Thomas
Luis Angel Zuniga
Aubrey
General Studies
Myishia Johntea Renee Edwards, Certificate
Sociology
Myishia Johntea Renee Edwards, Associate of Arts
Baytown
Vocational Nursing
Sharen Denice McCall, Certificate
Beaumont
Business
Jaci Nicole Harris, Associate of Science
General Studies
Jaci Nicole Harris, Certificate; Kaleigh Summer White, Certificate
Vocational Nursing
Alberta Marie Nemeth, Certificate; Yuri Amairani Sanchez, Certificate
Bridge City
General Studies
Kiegan Renee Corkran, Certificate; Brittany Dawn Reece, Certificate
Instrumentation
Luis Angel Zuniga, Certificate and Associate of Applied Science
Pharmacy Technology, Basic
Braleigh Michelle Molin, Certificate

Teaching
Kiegan Renee Corkran, Associate of Arts
Vocational Nursing
Richelle Christophen Cope, Certificate; Litzy Alexandra Figueroa, Certificate; Brianna Caitlyn Fredeck, Certificate; Alexandra Britt Smith, Certificate
Buna
Dental Assisting
Jessica Diane Butchee, Certificate; Brooke Autumn Mitchell, Certificate; Tanya Necole Sims, Certificate
General Studies
Kaytlyn Brianne Franz, Certificate
Liberal Arts
Kaytlyn Brianne Franz, Associate of Arts
Vocational Nursing
Amber Danae Askew, Certificate; Taylor Lyn Cofty, Certificate
DeQuincy, LA
Vocational Nursing
Alyssah Victoria Fontenot, Certificate
Deweyville
Criminal Justice
Courtney Nicole Barnes, Associate of Science
General Studies
Courtney Nicole Barnes, Certificate
Vocational Nursing
Atalia Nicolette Garcia, Certificate
Evadale
Biology Medical Professions Emphasis
Trevor Martel Wiese, Associate of Science
Dental Assisting
Jayla Lorenn Hare, Certificate
General Studies
Trevor Martel Wiese, Certificate
Iowa, LA
General Studies
Cassidy Chrisshae White, Certificate
Liberal Arts
Cassidy Chrisshae White, Associate of Arts
Jasper
Vocational Nursing
Shaylyn Taylor Hubert, Certificate
Lake Charles, LA
General Studies
Brittney Neshia Citizen, Certificate
Natural Science
Brittney Neshia Citizen, Associate of Science
Vocational Nursing
Courtney Danielle Britt, Certificate
Lumberton
Dental Assisting
Sarah Isabelle Banker, Certificate
Vocational Nursing
Jaclyn Rene Bacchiocchi, Certificate; Haylee Ann Green, Certificate; Taylor Brianne Lafitte, Certificate
Nederland
Dental Assisting
Kylie Renae Castaneda, Certificate; Clarissa Arianna Molina, Certificate; Lakindra Lynelle Norbert, Certificate
Orange
Business
Kristen Lanie Courmier, Associate of Science; Carly Beth Garrett, Associate of Science; Kayleigh Nicole Ritchey, Associate of Science; Ariel Chantal Slaughter, Associate of Science
Dental Assisting
Sandy Van Anh Bui, Certificate; Jamie Renae Carpenter, Certificate; Kelsey Brena Garrett, Certificate; Maria Del Carmen Servin, Certificate
General Studies
Lesleigh Michelle Amedee, Certificate; Bianca Denee Bourque, Certificate; Christopher Edwin Brewer, Certificate; Kristen Lanie Courmier, Certificate; Carly Beth Garrett, Certificate; Michael Tilden Jeanes, Certificate; Shelby Renee Perales, Certificate; Kayleigh Nicole Ritchey, Certificate; Sheila Fiveson Schwartz, Certificate; Cassie Nicole Simon, Certificate; Ariel Chantal Slaughter, Certificate
Instrumentation
Asa Auston Lewis, Certificate and Associate of Applied Science
Liberal Arts
Christopher Edwin Brewer, Associate of Arts; Michael Tilden Jeanes, Associate of Arts; Sheila Fiveson Schwartz, Associate of Arts; Cassie Nicole Simon, Associate of Arts
Pharmacy Technology
Alia Ronetria Roberts, Certificate
Process Operating Technology
Jeremiah Montre Armstrong, Associate of Applied Science
Rasheed Abdul Ali Davion Puryear, Associate of Applied Science
Process Technology
Rasheed Abdul Ali Davion Puryear, Certificate
Teaching
Lesleigh Michelle Amedee, Associate of Arts; Bianca Denee Bourque, Associate of Arts
Vocational Nursing
Jacob Scott Bowden, Certificate; Amanda Chavez, Certificate; Ashley Christina Henry, Certificate; Dayla Lynette Hulsey, Certificate; Lisa Dorrell Langelle, Certificate; Bethany Anne Martinez, Certificate; Emilee Christina Fallin Procella, Certificate; Mallory Kennedy Reeves, Certificate; Ashley Renee Robinson, Certificate; Abigail Christine Sonnier, Certificate; Kaitlin Mercedes Thayer, Certificate; Ebony F. Thomas, Certificate
Port Arthur
Dental Assisting
Yaquelin Mendoza, Certificate
General Studies
Laura De'Sha Simon, Certificate
Liberal Arts
Laura De'Sha Simon, Associate of Arts
Port Neches
Vocational Nursing
Michael Ryan Powers, Certificate
San Leon
General Studies
Raney Morgan Price, Certificate
Liberal Arts
Raney Morgan Price, Associate of Arts
Silsbee
Vocational Nursing
Samantha Kaye Alphin, Certificate; Julie Lynn Butler, Certificate; Alyss Jones, Certificate; Felicia Lanae Wilson, Certificate
Sulphur, LA
Dental Assisting
Kiele Marie Marler, Certificate
Vidor
Business
Grace Makenzie Garcia, Associate of Science
Dental Assisting
Hailee Mae Brown, Certificate; Taylor Brynn Schroeder, Certificate
General Studies
Faith Elisabeth Brack, Certificate; Kiley Delana Brown, Certificate; Lana Joann Crump, Certificate; Jada Marie Osborne, Certificate; Rachel Nicole Sanders, Certificate; Hayley Marie Schick, Certificate; Cameron Taylor Tristan, Certificate; Selena West, Certificate
Liberal Arts
Faith Elisabeth Brack, Associate of Arts; Kiley Delana Brown, Associate of Arts; Lana Joann Crump, Associate of Arts; Jada Marie Osborne, Associate of Arts; Cameron Taylor Tristan, Associate of Arts
Vocational Nursing
Hanah Maxine Lawrence, Certificate; Baylei Nicole McGowan, Certificate; Hope Danielle Pridgen, Certificate
Vinton, LA
Vocational Nursing
Natasha Marie Richmond, Certificate
Welsh, LA
Vocational Nursing
Norma Faye Drake, Certificate
West Orange
Business
Glenda Sue Harvey, Associate of Science
Information Technology Support Specialist
Elijah Joseph Reynolds, Associate of Applied Science
Vocational Nursing
Jacquelyn Marie Oberle, Certificate; Kiasia Chaunice Wilson, Certificate
Woodville
Vocational Nursing
Samantha Jo Lilley, Certificate