LSCO-McNeese Sign Transfer Agreement
October 29, 2019
---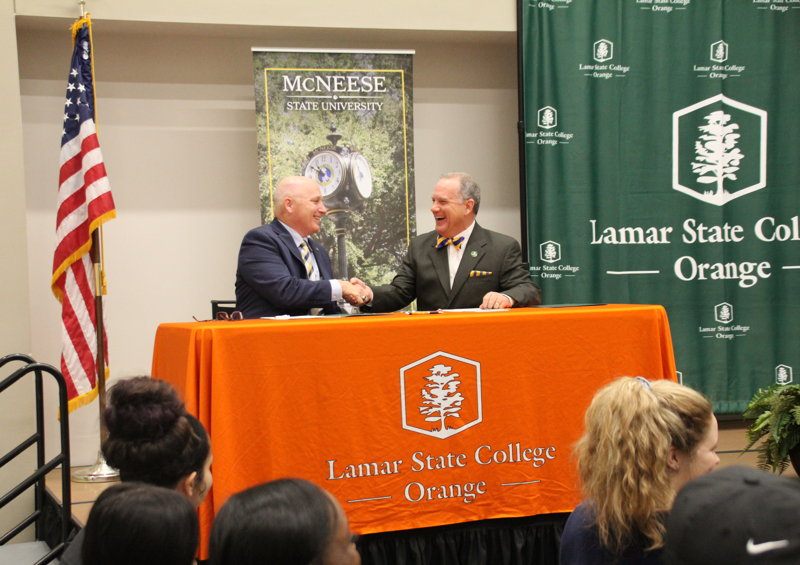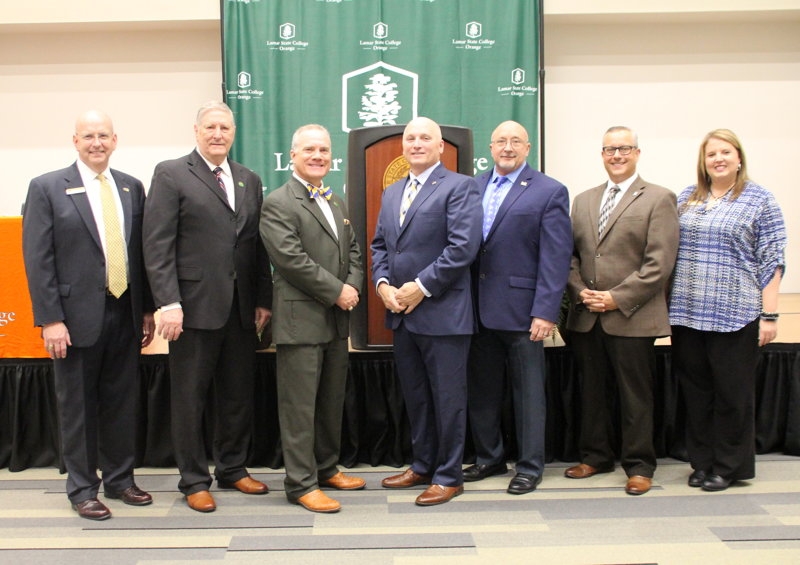 Less than 40 miles and one state line separate Lamar State College Orange and McNeese State University in Lake Charles, Louisiana. It's a road that just got easier to travel now that the two colleges signed a Student Transfer Agreement.
Dr. Daryl Burckel, President of McNeese State University, and his executive team traveled from Louisiana to downtown Orange, Texas on Monday to make it official that Lamar State College Orange students can easily transfer the credits they earn at LSCO to McNeese after they graduate.
The signing ceremony was held in the Shahan Events Center and included many students, faculty, and staff.
President Dr. Thomas Johnson explained that Lamar State College Orange's vision is Where Hope Meets Opportunity and the mission is simply to Transform Lives.
"This partnership does both," he said. "It puts students in a better position for a better life."
Many LSCO students dream of earning a four year degree, but some don't have the opportunity to do so, he added.
"Students can come to our school and by partnering with McNeese, we have clearer pathways to provide that opportunity," Dr. Johnson said. "We need to tear down any barriers we can to help students."
A product of a two-year school himself, Dr. Johnson said LSCO's smaller class sizes and reduced tuition provide reasonable access for students to achieve their dreams.
Dr. Burckel echoed those sentiments, noting that the two colleges have a kindred spirit.
"Lamar State College Orange's goal is to see their students' lives bettered and if you come to McNeese State University, we're going to change your life," he said. When you step on our campus, our faculty and staff are invested in your life. At the end of the day, our why is you, your life, your future, what you aspire to be – we're all in on that."
Dr. Johnson called the agreement a win for both colleges, but more importantly, a win for students.
"Our region needs a more educated and skilled worker and our future graduates will fill this role," he said. "These two-plus-two agreements give more students an opportunity for a better life. I believe in this."
Dr. Burckel agreed.
"We've bought into Lamar State College Orange and what Dr. Johnson is doing here," he said. "We look forward to this partnership."
Lamar State College Orange already has similar Student Transfer Agreements with Lamar University and Stephen F. Austin State University and will soon sign an agreement with Texas Southern University.