Houseman Contributes Generously to Lamar State College Orange
August 21, 2015
---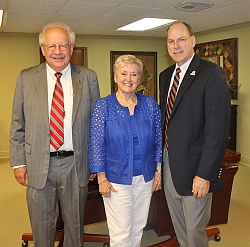 Gisela Houseman, distinguished business woman and philanthropist, donated $50,000 to Lamar State College Orange for the Tony Houseman Memorial Scholarship.
Dr. Mike Shahan, Lamar State College - Orange president stated, "This is a big occasion for Lamar State College - Orange. Gisela and Tony have supported LSC-O for a long, long time. The Houseman scholarship fund has been instrumental for so many students pursuing an education, students who otherwise could not have done so."
Houseman is a native of Hamburg, Germany and became a United States citizen in 1950. With over 25 years as an insurance professional with accounting and finance expertise, she moved to Southeast Texas in 1987 and married the late Orange County real estate developer Tony Houseman.
Actively involved with the community, Houseman serves as a board member of the Lamar State College Orange Foundation as well as the Foundation at Lamar Institute of Technology. She is involved with the Better Business Bureau, CASA, and the Salvation Army. Houseman is a graduate of Leadership Texas and Leadership America and is a founding member of Leadership Southeast Texas.
Among the numerous award Houseman has received during her career include the Athena Award of Orange County, the Bill Leger Family Advocate of the Year Award, the CASA Lone Star Proud for Kids Award, the South East Texan of The Year, and the J.C. Penney Golden Rule Award.
The Tony Houseman Scholarship, established in 2008 shortly after his death, honors the memory of a long-time Orange business and civic leader. Mr. Houseman believed in the economic potential of Southeast Texas and worked to turn that potential into reality.
To be eligible for the Tony Houseman Scholarship, a student must be attending or planning to attend Lamar State College - Orange, major in business or a related field, must be taking at least twelve (12) semester credits, must demonstrate a record of academic success, and maintain a GPA of at least 2.5. For more information on how to apply for the Tony Houseman Scholarship, contact the LSC-O Financial Aid department at 409-882-3317 or apply online at http://www.lsco.edu/scholarships/scholarships.asp.