LSCO Elves Support Blue Santa
December 16, 2016
---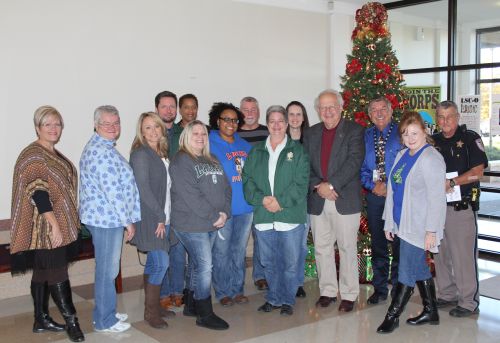 The Faculty, Staff, Students, and Administration of Lamar State College Orange dug deep again this year in support of the Blue Santa Program. On December 4, 2015, Dr. Mike Shahan, along with members of the LSC-O Elves committee, presented a check for $3,000 to Sheriff Keith Merritt and members of Orange County Sheriff's Office. The contribution will assist in helping more than 150 families and approximately 350 children with the annual toy giveaway.
In a long standing tradition, the LSC-O Elves set the goal, fundraising events were scheduled, and as customary of the college, an outpouring of support was realized. Numerous events included links sales, cooked by the master, Butch Campbell, Frito pie sales, casual dress, "What's in Your Wallet Wednesday's" and the ever popular Silent Auction. The annual "Cooks for a Cause" was a huge success with "friendly" competition among the campus community.
The LSC-O Elves would like to thank the "Beautiful Little Campus Downtown" for their tremendous outpouring of support. Not only did the additional funds help the Blue Santa Program, but an awareness of the needs of our community recognized by the Orange County Sherriff's Office has been brought to the forefront. Through the blessings received, may each person never forget the needs of the neighbors in our beautiful community. May we also give thanks and show sincere apperception for the continued service of all of the amazing men and women and the Orange County Sheriff's Office.