LSCO's Criminal Justice Society Inducts New Members
April 26, 2016
---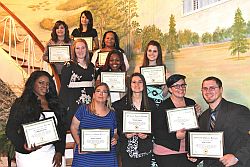 The Criminal Justice Society of Lamar State College Orange held an induction ceremony on April 26, 2016 at the Brown Estate in Orange, Texas. The yearly ceremony to present new members included a dinner and keynote speaker, the Honorable Courtney Arkeen, Judge of the 18th District Court.
Judge Arkeen, first appointed by Governor Rick Perry in 2011 and re-elected in 2012, is the first female and first Republican District Judge in Orange county, Texas and surrounding counties. A graduate of Orangefield High School in 1994 and the University of Texas-Austin in 1997, Judge Arkeen attended the University of Houston Law Center graduating with her juris-doctorate law degree in 1999.
The newly inducted members of the Criminal Justice Society are Maria Benitez, Amber Comeaux, Jacob Conner, Lavenia Fontenot, Courtney Gilbert, Jennifer Johnson, Autumn Jones, LaShawna King, Amanda Rogers, Pam Rogillio, Kendal Tousha, and Annie Valka.