History
The Brown Estate was called Linden of Pinehurst when it was the Brown family home. It was designed after a famous Antebellum home in Natchez, Mississippi built in the 1790's which bears the same name. Gladys Slade Brown saw Linden of Natchez when she was on a tour of Southern homes in Natchez, Mississippi in the 1930's. Architects Francis Warfield & Associates of Nashville obtained the original plans from the Library of Congress and planned the home in 1947, but because of material shortages due to World War II, the plans were not put on the drawing board until 1952. Sone & Pitts of Beaumont were the construction architects, and Don Cave & Associates of Houston were the decorators. French & Company of New York provided the artists for the entrance hall mural. The general contractor was Miner-Dederick Construction Corporation. Construction of the home was begun on October 8, 1954. The home was finished in April 1956 and comprises approximately 20,000 square feet (an average four-bedroom home is 2,500 square feet). The house consists of 20 rooms: four bedrooms, six bathrooms, two family rooms, a formal dining room, drawing room (now a second dining room), library, solarium, kitchen with butler's pantry, freezer room, laundry room, office, and hobby room, as well as two foyers, two porches, a three-car garage and a working basement.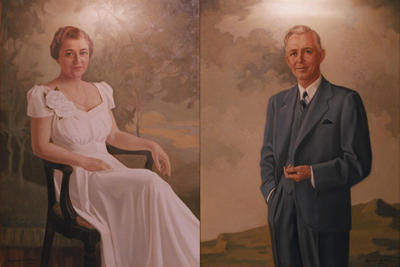 The four sons of Edgar W. Jr. and Gladys S. Brown, who were executors of their father's will, conveyed the home plus the trust fund and the 88 acres of beautifully landscaped grounds to Lamar University. The property was to be used as a center of cultural and educational activities for the benefit of the people of Orange County and Southeast Texas.
The house cost a little over $1 million to construct. To replace it today, with the same quality materials and workmanship, would cost over $10 million.